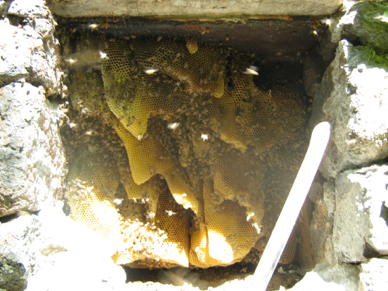 One of the most exciting common events in nature is when bees swarm. A buzzing sound is heard . The air is filled with thousands of bees. If they settle on your property call me right away. I can safely remove them into a hive. Otherwise, they might take up residence inside your house or a neighbors. Once they are inside it is much more difficult to remove them. It involves opening the wall, ceiling or floor, wherever they have found a hollow space to nest.
I have many years of experience as a carpenter and know how to remove building materials minimally to access the nest. I have a homemade bee-vac were by I can safely remove the bees from their comb. I disassemble and remove the whole nest and put it together again in a regular wooden hive. The cost varies depending on how long the bees have been in residence and by where they are in the structure.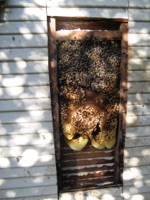 Exterminating bees is never successful. Pest control companies will not kill bees. If bees are poisoned, their nest and honey remains inside to damage the house. Save the bees by having them safely removed to a responsible beekeeper's care!
I do structural bee removal primarily in Marin, Alameda, San Francisco, and San Mateo counties.
Call me at 650-766-3513 or e-mail at philip@noevalleybees.com